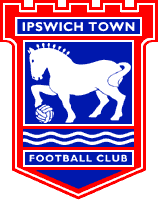 Ipswich Town FC
"…they're the finest football team the world has ever seen."
My heroes have stormed the 2000/2001 Premier League and, in their first season back up there, finished 5th, thereby securing a place in the UEFA Cup next season - European football returns to Portman Road! Apart from the official club site, there are masses of other Town-related web pages & resources out there. To make sure that nobody loses track of them, I've compiled a single Ipswich Town FC links page.
---
These are the other teams whose progress I follow in the media...
---

Norwich City FC
Naaridge are the only "local" team to occasionally spend time in the same league division as Ipswich. They are therefore our deadly rivals. Delia's Budgies managed to hold on to their Division 1 status and finished 15th.
As the official ITFC song goes…
I never feel more like singing the Blues
When Ipswich win and others Norwich lose,
Oh Ipswich - you've got me singing the Blues.
---

Burton Albion FC
(Why? Because I was born in Burton-upon-Trent).
Yet again, Burton are the bridesmaids of the Doctor Martens Premier League; Margate have clinched promotion to play in the Conference next year. Still, yet another magnificent performance from The Brewers - good luck to Nigel Clough and the lads for next year. Nice to see that the club has finally opened an official web site, but I still like checking on Brewers Net for BAFC info. They have also just "launched" (released?) a new club mascot ("Billy Brewer"). Hmmm…
Latest news: Burton finished the season in style by beating the champions, Margate 2-0.
---
Basingstoke Town FC
(Why? Because I live in Basingstoke).
Basingstoke finished in 3rd place in the Ryman Premier League. I join them in congratulating Farnborough Town on their promotion to the Conference and thus for being the only Hampshire side in that league. Of course, Basingstoke hope to join them there, next year.
---
Reading FC
(Why? Because they're the nearest professional side to my home).
Reading finished third in Division 2, earning them a place in the promotion play-offs. After beating Wigan Athletic (0-0 and 2-1), they lost to Peterborough United in the final. Better luck next year - we Ipswich supporters know exactly how you feel!
---

Swindon Town FC
(Why? Because I currently work in Swindon).
Thanks to Bristol Rovers losing their penultimate game to Wycombe Wanderers, Swindon avoided relegation from the Nationwide League Division 2.
---
Colchester United FC
Colchester have always had a close association with Ipswich Town; apart from the geographic proximity, they have often acted as a "nursery" side, supplying young new talent to Ipswich that might otherwise not have made the big(ger) time. In particular, George Burley was their manager immediately prior to his now legendary reign at Ipswich. Colchester also accept our "more mature" players in return; the long-time Ipswich legend that is Mickey Stockwell is still playing there!
Latest news: Mickey is voted Colchester's "Player of the Year"; Mickey was the only player to appear in all Colchester's matches this season; Mickey is Colchester's top scorer for the season (11 goals); Mickey is the first player to sign a new contract (a whole year) for next season.
It has recently come to my attention that Colchester is the ITFC Old Boys Club: Steve Whitton (Manager), Geraint Williams (Coach), Mickey Stockwell, Jason Dozzell, Gavin Johnson and David Gregory are all current employees there.
---
Maidstone United FC
(Why? Because I spent most of my childhood near Maidstone).
Since their demise from any recognised football league, Maidstone have pretty much disappeared from the map. The link given above was the last known tribute site to this team.
---

Gillingham FC
(Why? Because my sister Sarah bullied me into including them!).
As the only Kent football team in any of the professional football leagues, and due to the demise of Maidstone (above), I've been asked to mention the Gills. How did they fare this year? Finished about halfway up Division 1. Still, it was better than the Budgies!